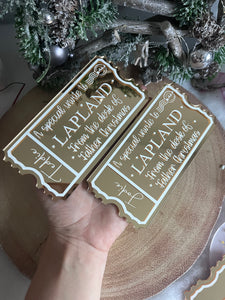 If the tickets you require are showing as SOLD OUT it means we have hit our quota for this drop! Apologies this was a big sell out. we will release more shortly do not worry! 
THINGS TO NOTE BEFORE ORDERING:
Due to my viral TikTok there 7 -21 WORKING DAY turnaround (does not include weekend) but hopefully sooner! Please enter the day you require your tickets to be delivered by. This will enable me to send out tickets needed sooner than others however all tickets will go out with plenty of time before you need them. I have done this to try and make sure everyone can get a ticket.
Tickets can only have ONE name (no double barreled names). If you enter two names the only the first name will be added to the ticket
I am one person running a small business. All out tickets are handmade to order. We are not Amazon :-)
Ticket can only have ONE name on it.
Presentation gift box available if required.