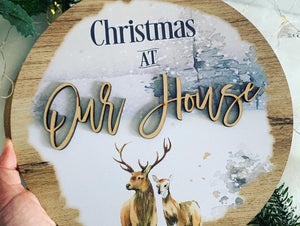 SOLD AS SEEN WITH OUR HOUSE AS NAME:
A gorgeous decoration for Christmas! These UV printed twin deer scene  wooden boards come printed with Christmas at and are then Personalised with a name or wording of your choice in wood.
25cm wide. 
Please note these are not suitable for outdoor use My items are for decorative use only and are not a toy. Please place out of reach of children. 


scripted font shown in this picture